Anne Taylor, MD: Aesthetica Surgery & Spa
7227 North High Street #256
Worthington, OH 43085
Phone: (614) 569-2649
Monday–Thursday: 9 a.m.–4 p.m.
Friday: 8 a.m.–12 p.m.
Saturday–Sunday: Closed

Extended winter hours from 12 p.m.–2 p.m., call to confirm.

Our Staff
The team at Aesthetica Surgery & Spa in Columbus, Ohio, is the heart of Dr. Taylor's plastic surgery practice. Each member of our warm and friendly staff genuinely cares about getting to know you and building a lasting relationship with you. We recognize that the decision to have cosmetic enhancement can be intimidating and overwhelming, and we are here to help. We will provide you with support and information throughout your journey so that you feel confident, safe, and cared for.
Request a consultation online to discuss your procedure with Dr. Taylor, or call our office at (614) 569-2649 to schedule an appointment.
CBUS Top Pick
Aesthetica has been named a CBUS Top Pick for Best Cosmetic Surgery Practice—that's a big deal! Of the more than 30,000 businesses in the area, the Columbus community voted Aesthetica Surgery & Spa as one of the top 3 in our field. Thank you for voting, and cheers to being among the best of the best!
Meet the "A-Team"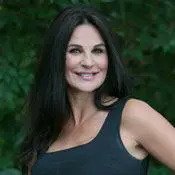 Angela
Patient Coordinator & Insurance Specialist
Angela is our team veteran. She has worked with Dr. Taylor for over 20 years and is extremely knowledgeable about cosmetic enhancement (which stems from both professional and personal experience). In her role, she works to coordinate your care and acts as an advocate to minimize your out-of-pocket expenses. In her spare time Angela enjoys reading, cooking and RV camping. She and her husband Todd, who got her into camping, just celebrated their third wedding anniversary.
One of her greatest pleasures in life are her 4 children and five grandchildren, with grandchild number six on his way. Angela's favorite season is summer and she loves spending time by the water on a hot summer day. (She does wear sunscreen for protection.) Please feel free to speak with Angela regarding any of your procedural or billing questions.
---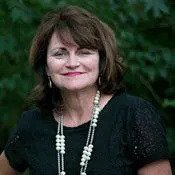 Vicki N.
Registered Nurse
Vicki has worked with Dr. Taylor for many years. As a registered nurse, she often performs many of the non-surgical treatments available at Aesthetica Surgery & Spa, such as BOTOX® Cosmetic injections and laser skin rejuvenation. Vicki has many years of experience which is why she is known for her outstanding results. Vicki is highly knowledgeable about plastic surgery and medical spa procedures, so she is happy to answer your questions.
Vicki is a busy wife and mother of 3. When she's not in the office, you can finder her supporting her kids at the volleyball court or on the track (she never misses an event, ever). Vickie is an avid reader who can always be trusted to pass along a great book. Her entrepreneurial spirit and love of good food have her working on two side ventures: Ridiculously Good Salsa and handcrafted lollipops by Lollipop Lush.
---
Amanda
Registered Nurse, RNFA
Amanda grew up in Dublin, Ohio, and graduated from Indiana Wesleyan University in 2002 with a Bachelor of Science degree in nursing. She returned to school in 2004 for RN first assistant (RNFA) training. After working for 12 years as a hospital OR nurse, Amanda began working in aesthetics and plastic surgery. She joined Dr. Taylor and the A-team in 2020.
As an aesthetics nurse and an injector at Aesthetica, Amanda loves to help her patients attain their aesthetic goals. She looks forward to being a part of your plastic surgery journey. As a mother of three boys, Amanda enjoys all things outdoors and Formula 1 racing, and is an avid weightlifter. She resides with her family in Hilliard.
---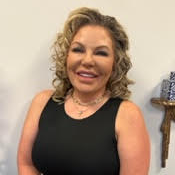 Vickie S.
Aesthetician
When you need to discuss skin care, make-up techniques or coolsculpting, you will likely chat with Vickie Smith. She is our aesthetician, who specializes in personalizing your treatment for your needs. She will help you select the best products from the OBAGI and SkinMedica lines, for you to reach your skin care goals. She also cares for your skin with spa treatments such as Microneedling, Dermaplaning, and chemical peels. Also if body contouring is your goal, and If you need coolsculpting, Vickie is your fat-slayer!
When she is not making our patient's skin look better, she enjoys spending time with family. She is GiGi to her 3 grandchildren, her pride and joy.
---
Monica
Patient Care Coordinator
Monica is the patient care coordinator and newest team member at our office. She has been fascinated by her switch from dental hygiene to aesthetics for the past two years! Having lived in Worthington for almost 22 years and having 4 kids graduate from Thomas Worthington, it has been a pleasure to work so close to home.
In her free time, she's either at Pilates, or traveling with her husband Doug to visit family. Her trips to Pittsburgh are her most favorite, to cuddle her first grandbaby, Ella.
---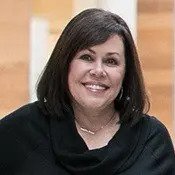 Judy
Brand Ambassador
Judy is one of our A-team veterans. She has worked with Dr. Taylor for more than 14 years and is extremely knowledgable about cosmetic enhancement and procedures (which stems from both professional and personal experience). In her role, Judy works to make your experience at Aesthetica a memorable one.
In her spare time, Judy enjoys spending time with her family. She and husband Bob stay very busy with their two sons and four grandchildren and when not babysitting or working they are traveling. She also possesses an entrepreneurial spirit and love of good makeup. Her second job is consulting for Younique cosmetics.
---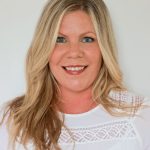 Amy
Aesthetician
Amy has been with Dr. Taylor for over 4 years. However, her journey as a Medical Aesthetician began over 20 years ago! She began working in the medical field as a CMA but felt like something was missing. This led her to pursue her Aesthetics License in 2001. Amy's combined Medical, Dermatology, and Aesthetic experiences gives her the knowledge and skills to offer a wide range of advanced skin care and medical aesthetic treatments. At Aesthetica, Amy provides Chemical Peels, Dermaplaning, Micro-needling, Coolsculpting and MiraDry… just to name a few. You may also find her working in the front office and may assist you with many aspects of your aesthetic and/or plastic surgery journey.
Amy is married to her childhood sweetheart and is blessed to be the mother of 2 adult daughters, 1 son and 4 stepsons. She is also the proud "Mimi" of 3 precious Grandsons. She loves spending time with her family and being outdoors… Except during the winter, when she will be hibernating at home in front of the fireplace with her beloved Basset Hound, Marley and new Cavapoo puppy, Sophie!
"I love what I do. What could be more rewarding than helping someone feel beautiful?"
— Dr. Anne Taylor
Dr. Anne Taylor has more than 20 years of plastic surgery experience and credentials that speak for themselves. Women and men come to her for her plastic surgery artistry, and the genuine warmth and compassion she has for her patients.
Credentials You Can Trust