Anne Taylor, MD: Aesthetica Surgery & Spa
7227 North High Street #256
Worthington, OH 43085
Phone: (614) 569-2649
Monday–Thursday: 9 a.m.–4 p.m.
Friday: 8 a.m.–12 p.m.
Saturday–Sunday: Closed

Extended winter hours from 12 p.m.–2 p.m., call to confirm.

Meet Dr. Taylor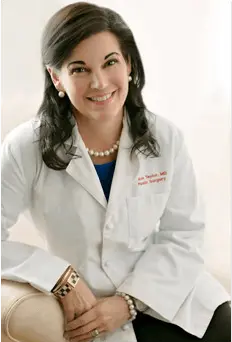 Dr. Anne Taylor is an Ohio native with a passion for taking care of people. Connecting with her patients is one of the things she loves most about her job, and something that sets her apart from other board-certified plastic surgeons in Columbus, Ohio. Consulting a cosmetic surgeon is a very personal decision, and one that can make patients feel vulnerable. Dr. Taylor takes the time to put people at ease and build a trusting relationship, and this partnership leads to excellent results that both they and she can be thrilled with.
Dr. Taylor founded Aesthetica Surgery & Spa to offer advanced medical spa procedures under the supervision of a board-certified plastic surgeon. Women and men from Columbus and suburbs like New Albany, Dublin, and even Mansfield and Granville, come to this elegant, boutique practice for personal attention and unsurpassed care.
Request a consultation online to learn more about Dr. Taylor and Aesthetica, or call our office at (614) 569-2649 to schedule an appointment.
Education and Experience


Dr. Taylor's education and surgical training laid the groundwork for her distinguished career, which has spanned almost 20 years. After graduating summa cum laude with a biology degree from Denison University, where she was a merit scholar in both her junior and senior years, Dr. Taylor enrolled at The Ohio State University College of Medicine. She earned her degree in 1990 and then completed 6 years of residency training in both general and plastic surgery at Ohio State. She earned board certification in plastic surgery in 1998.
Get to Know Us: In this Fox 28 video, Dr. Taylor shares her practice philosophy and details about the treatments she provides at Aesthetica Surgery & Spa.
Combining artistry with anatomy – two of her passions – plastic surgery naturally appealed to Dr. Taylor early in her medical education. As a plastic surgeon in practice since 1990, she remained at the leading edge of cosmetic enhancement, specializing in non-surgical procedures as well surgery for the face, breast, and body. During that time, Dr. Taylor's expertise in breast augmentation led to her participation in a nationwide clinical study of silicone gel breast implants that led to the FDA approval of the devices, and she remains a leader in this procedure.
Learn more about Dr. Taylor's credentials by viewing her CV.
Dedication and Compassion
Dr. Taylor brings an uncommon level of empathy and a woman's perspective that resonates with her patients. She places great value on consultations and encourages patients to share their questions and concerns about the procedures and their reasons for seeking cosmetic enhancement.
Dr. Taylor is dedicated to ensuring individuals considering cosmetic and reconstructive procedures have reliable, up-to-date information. She is a member of both the American Society of Plastic Surgeons® (ASPS) and The Aesthetic Society (formerly ASAPS) and active in numerous medical organizations serving as the past president of the Ohio Valley Society of Plastic Surgeons and the Columbus Medical Association. Dr. Taylor has previously served as chair of the Public Education Committee for the ASPS, in addition to leading the ASPS' political action committee. She has also been on the executive board of the ASPS as VP of Health Policy and Advocacy. Earlier in her career Dr. Taylor was an associate professor at The Ohio State University's Department of Plastic Surgery, where she was a full-time faculty member and helped train the next generation of plastic surgeons
One of Dr. Taylor's plastic surgery patients discusses her experience at Aesthetica
Read what patients have to say about Dr. Taylor in their online reviews.
See how Dr. Taylor helps people around the world by providing answers to common plastic surgery questions.
Outside of Work…
Family is very important to Dr. Taylor, who is married and has 4 beautiful, grown children. When not working or spending time with family, Dr. Taylor is a "sandbagger golfer," and enjoys staying in shape by running 5K races with her friends and her staff.
CBUS Top Pick
Aesthetica has been named a CBUS Top Pick for Best Cosmetic Surgery Practice—that's a big deal! Of the more than 30,000 businesses in the area, the Columbus community voted Aesthetica Surgery & Spa as one of the top 3 in our field. Thank you for voting, and cheers to being among the best of the best!